"Remembering Survival Inside a Nazi Slave Labor Camp"
(in cooperation with the Florida Holocaust Museum)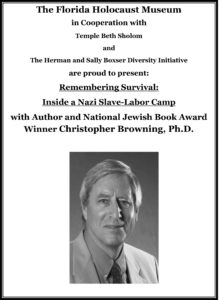 The Boxser Diversity Initiative and the Florida Holocaust Museum sponsored a very interesting lecture at Temple Beth Sholom by the renown Author, Professor Christopher Browning. Many people attended the event, including several Holocaust survivors.
Browning discussed his latest book, Remembering Survival: Inside a Nazi Slave-Labor Camp.
Browning's book focuses on a Nazi slave labor camp in Poland, was called by the Washington Post a "fine, harrowing'' account that takes uncharted directions in Holocaust history. It won the Yad Vashem International Book Prize for Holocaust Research in 2012 for exceptional new research on a topic related to the Holocaust. The award committee called called the book "a model of a sophisticated, methodologically aware, self-reflective use of testimonial evidence."
Browning, the Frank Porter Graham Professor of history at the University of North Carolina-Chapel Hill, is the author of seven Holocaust-related books.
"Dr. Browning's research is shedding new light on a chapter of Holocaust history that has long been neglected," said Thomas Smith, director of the USFSP Honors Program. "We thank him for sharing with our community his findings on this neglected chapter in Holocaust history."